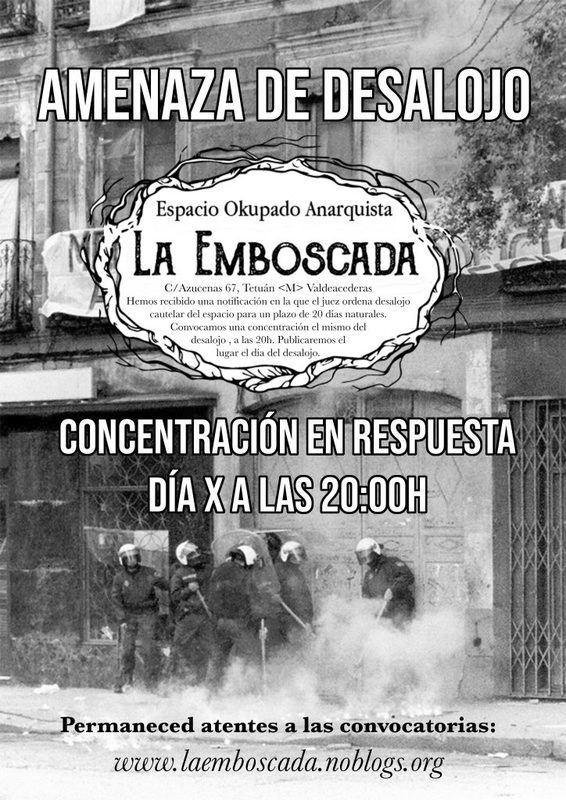 Madrid, Spagna: Lo spazio anarchico La Emboscada è a rischio sgombero (17/12/2019)
Sgombero precauzionale de "La Emboscada"
20 dicembre 2019

Ciao compagni!
Scriviamo questa dichiarazione da La Emboscada (Tetuán, Madrid), per informare che lo scorso 17 dicembre un giudice ha ordinato il nostro sgombero precauzionale a seguito di una denuncia fatta da uno dei proprietari dell'edificio in cui è presente lo spazio anarchico occupato La Emboscada.
Secondo questa notifica, lo sgombero potrebbe essere molto vicino, a meno di venti giorni. Considerando queste informazioni, abbiamo deciso di combattere con tutte le nostre capacità per fermare questo sgombero. Dunque chiamiamo, per il giorno dello sgombero, ad un concetramento durante la sera, alle ore 20.00, e contiamo sul vostro supporto. Il luogo del concentramento non sarà pubblico fino all'ultimo istante, quindi ti invitiamo ad avere attenzione.
Abbiamo deciso di non rimanere in silenzio mentre vediamo decine e decine di procedimenti di sgombero sia per spazi abitativi che per centri sociali.
Abbiamo deciso di non arrenderci, né di negoziare con quelle persone che, su tutto, vogliono difendere la loro proprietà privata, perché sappiamo che quest'ultima ricerca solo il profitto individuale di alcuni e che lo Stato difende e sostiene questi già noti vecchi nemici di classe.
Sappiamo che questo caso non è isolato (ci sono anche tutti i fatti precedenti, accaduti nell'ultimo anno) ma risponde ad una normale e funzionante struttura capitalista. Sappiamo che il proprietario non è il diavolo che sfugge alla norma o al buon senso accettati dalla maggior parte dei cittadini. Così abbiamo deciso di affrontare questa situazione come un conflitto in più da affrontare, con tutta la volontà e gli aiuti reciproci che potremmo mettere insieme con coloro che comprendono e sono solidali con la lotta contro il capitalismo, la legge e lo Stato.
Abbiamo deciso di difendere le occupazioni come strumento per attaccare la proprietà privata. Questo attacco per noi diventa ogni volta più difficile, ma pensiamo solo a creare nuove formule per far sì che non seppelliscano la nostra volontà di continuare a combattere e occupare. Sappiamo che non possiamo farlo senza di te. Sappiamo che la solidarietà e l'azione diretta contro la speculazione sono le nostre armi migliori.
Quindi ti incoraggiamo ad avere attenzione per le prossime chiamate, a venire allo spazio e ai possibili eventi che potremmo organizzare, in difesa delle occupazioni.
Contro il rafforzamento delle leggi per la nostra disarticolazione e criminalizzazione, ora più che mai: occupare!
Contro la gentrificazione e la speculazione.
Occupa e resisti!
La Emboscada
Calle de las Azucenas 67 – Tetuán
28039 Madrid – España
laemboscada[at]riseup[dot]net
https://laemboscada.noblogs.org/
___________________________________________________________________________
Madrid, Spain: Anarchist space La Emboscada under eviction threat (December 17th, 2019)
La Emboscada under eviction threat
Friday December 20th
Hello comrades,
We write this communiqué from La Emboscada (Tetuán, Madrid) to inform you that last December 17th a judge ordered our precautionary eviction based on a complaint made by one of the owners of our Anarchist Occupied Space La Emboscada.
According to this report, the eviction can be very close, in less than 20 days. Taking into account this information, we decided to fight with all our capacities to prevent this eviction. So we called for a demonstration in the evening on the day of the eviction, at 8pm, and we are counting on your support. The meeting place will not be published until the last moment, so we encourage you to be attentive.
We decided not to remain silent while we see dozens and dozens of eviction processes both in housing and social centers.
We decided not to give up or negotiate with those people who want to defend their private property above all, because we know that private property only seeks the individual benefit of some and we know that the State defends and supports these old class enemies already known.
We know that this case is not an isolated case (we have all the previous facts occurred this last year) but it responds to a normal capitalist functioning and structure. We know that the owner is not the devil who escapes the norm or the common sense accepted by most citizens. So we have decided to approach it as one more conflict to be faced and with all the will and mutual support that is given among all those who understand and are in solidarity with this fight against Capital, laws and State.
We decided to defend squatting as a tool for attacking private property. This attack is becoming more and more difficult for us, but we only think about creating new formulas to ensure that our desire to continue fighting and continue squatting is not buried. We know that we cannot do this without you. We know that solidarity and direct action against speculation are our best weapons.
So we encourage you to be attentive to the next calls, to go to the space and to possible days or events that we will bring out in defense of the space, in defense of squatting.
Against the reinforcement of the laws for our destruction and criminalization, now more than ever: occupy!
Against gentrification and speculation.
Occupy and resist!
La Emboscada
Calle de las Azucenas 67 – Tetuán
28039 Madrid – España
laemboscada[at]riseup[dot]net
https://laemboscada.noblogs.org/
___________________________________________________________________________
Madrid, España: Desalojo cautelar de La Emboscada (17/12/2019)
Viernes, 20 de diciembre.
Hola compas!
Escribimos este comunicado desde La Emboscada (Tetuán, Madrid), para informar de que el pasado 17 de diciembre un juez ordenó nuestro desalojo cautelar a partir de una denuncia hecha por uno de los propietarios de nuestro Espacio Okupado Anarquista la Emboscada.
Según este informe, el desalojo puede estar muy cerca, en menos de 20 días naturales. Teniendo en cuenta esta información, decidimos luchar con todas nuestras capacidades para impedir este desalojo. Así que convocamos para el día del desalojo una concentración por la tarde, a las 20h y contamos con vuestro apoyo. El lugar de la convocatoria no será publicado hasta el último momento, por lo que os animamos a estar atentes.
Decidimos no quedarnos calladas mientras vemos decenas y decenas de procesos de desalojo tanto de viviendas como de centros sociales. 
Decidimos no claudicar ni negociar con aquellas personas que quieren defender su propiedad privada por encima de todo, porque sabemos que la propiedad privada solo busca el beneficio individual de unxs cuantxs y sabemos que el Estado defiende y apoya a estos viejos enemigos de clase ya conocidos. 
Sabemos que este caso no es un caso aislado (contamos con todos los hechos previos ocurridos este último año) sino que responde a un funcionamiento y una estructura normal capitalista. Sabemos que el propietario no es un hombre-demonio que escape la norma o el sentido común aceptado por la mayoría de los ciudadanos. Así que hemos decido abordarlo como un conflicto más al que hacerle frente y con todas las ganas y el apoyo mutuo que se dé entre todas aquellas que entiendan y se solidaricen con esta lucha contra el Capital, las leyes, y el propio Estado. 
Decidimos defender la okupación como herramienta de ataque a la propiedad privada. Este ataque cada vez se nos dificulta más, pero nosotras solo pensamos en crear nuevas fórmulas para conseguir que no entierren nuestras ganas de seguir luchando y seguir okupando. Sabemos que esto no lo podemos hacer sin vosotras. Sabemos que la solidaridad y la acción directa contra la especulación son nuestras mejores armas.
Así que os animamos a estar atentes a las próximas convocatorias, acudir al espacio y a posibles jornadas o eventos que vayamos sacando en defensa del espacio, en defensa de la okupación.
Contra el reforzamiento de las leyes para nuestra desarticulación y criminalización, ahora más que nunca: okupación! 
Contra la Gentrificación y la Especulación.
Okupa y resiste!
La Emboscada
Calle de las Azucenas 67 – Tetuán
28039 Madrid – España
laemboscada[at]riseup[dot]net
https://laemboscada.noblogs.org/