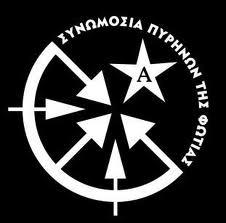 Grecia: Il compagno anarchico Damiano Bolano, membro della CCF, è stato scarcerato
Il 21 maggio 2019 Damiano Bolano, membro della Cospirazione delle Cellule di Fuoco, è stato scarcerato. Il compagno era prigioniero da marzo 2011 [precisamente venne arrestato il 14 marzo].
Libertà per tutti!
Fino a quando verrà distrutta l'ultima prigione!
Supportiamo i compagni imprigionati moralmente, materialmente e politicamente.
Fondo di solidarietà per i prigionieri e i combattenti perseguitati
[Traduzione ricevuta via e-mail].
_________________________________________________________________________
Greece: CCF Member Damiano Bolano Released from Prison
On Tuesday, 21/5, the member of the Conspiracy of Cells of Fire, Damiano Bolano, was released. The comrade has been in custody since March 2011 [precisely he was arrested on March 14th].
Freedom to all!
Until the last prison has been destroyed!
We support the imprisoned fighters morally, materially, politically.
Solidarity Fund for Prisoners and Persecuted Fighters
[Text from 325.nostate.net].